Special Offers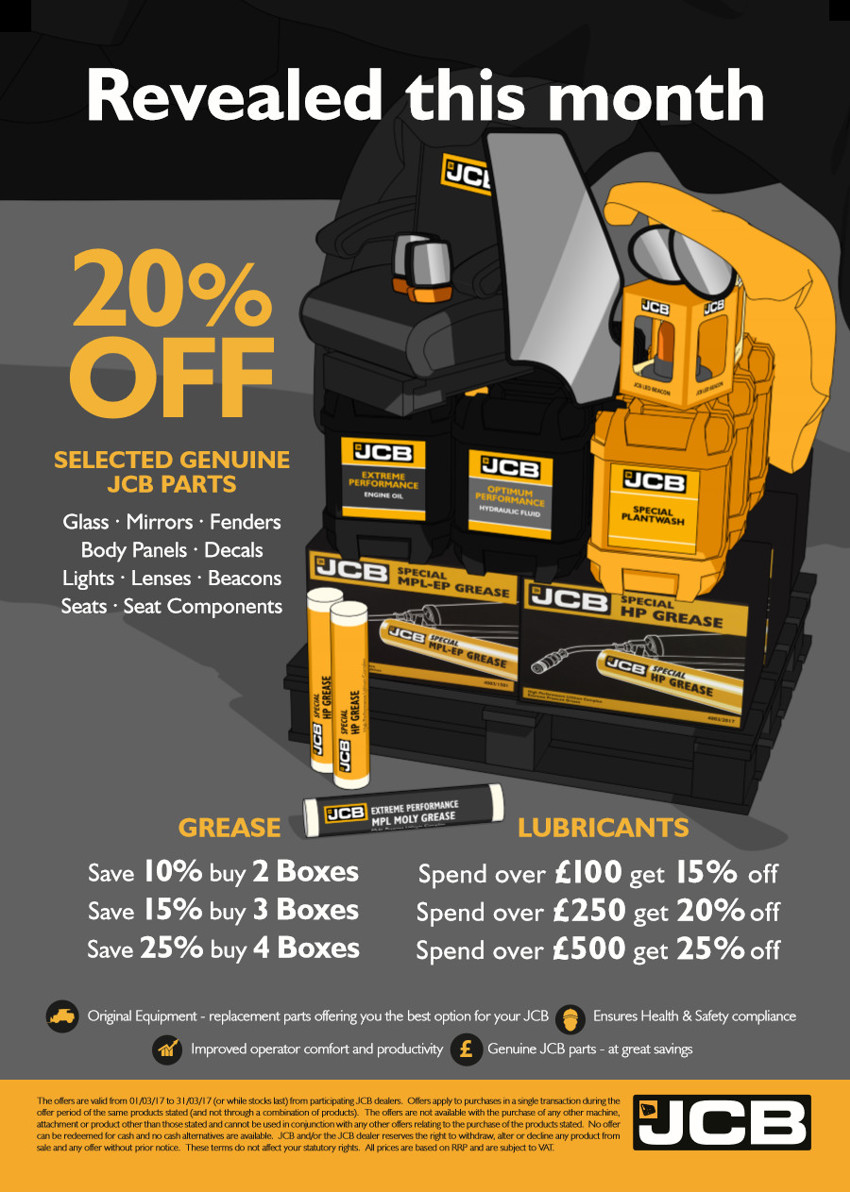 Save on Selected JCB Parts
This month we are giving up to 20% off of selected genuine JCB parts.
This includes:
Glass
Mirrors
Fenders
Body Panels
Decals
Lights
Lenses
Beacons
Seats
Seat Components
Up to 25% off of JCB Grease and Lubricants
Our Grease and Lubricant deal is also still available until the end of March, where you can get up to 25% off when you spend on our Genuine JCB Lubricants and Grease!
Save 10% when you buy 2 Boxes
Save 15% when you buy 3 Boxes
Save 25% when you buy 4 Boxes
Our Genuine JCB Lubricants and Grease help you reduce running costs and offers a long life protection under extreme conditions. Optimise your maintenance schedules with our parts offers which is suitable for a comprehensive range for all applications.
JCB GREASES
JCB greases play a vital part in offering the protection that can keep machinery up and running. The JCB grease range includes products specifically designed and developed to provide long life protection under the most extreme conditions.
Wide range of products in various pack sizes to suit all applications
Selection of accessories for the safe handling and application of the grease
Customers can optimise maintenance scheduling, reduce downtime and reduce operating costs

JCB Special MPL-EP Grease
JCB Special MPL-EP Grease is a true multi purpose, cost effective grease recommended for a wide range of lubricating duties.
JCB Special HP Grease
JCB Special HP Grease is a premium quality extreme pressure grease recommended for use in arduous operating conditions.
JCB Grease for JCB Breakers
JCB offers 3 types of specially formulated grease for use with the range of JCB breakers.
Note: Only approved JC Hammer Greases should be used. Damage to the breaker can occur if standard machine greases are used.
JCB Special Hammer Grease This grease is recommended for small and medium sized breakers, working in non-arduous conditions. It provides a highly effective lubricant on slow moving components, along with excellent corrosion resistant properties. All breakers are supplied as standard with a grease gun and regular greasing is essential to protect the breaker components and minimise downtime. JCB Extreme Performance Hammer Grease This unique aluminium complex grease is recommended for use on the complete range of JCB breakers. It is specifically designed for use with large breakers and in situations where resistance to water is critical. JCB AUTOGREASE This grease is for use with the JCB AUTOGREASE system fitted to the large breaker range. The specially designed cartridges screw into the AUTOGREASE system on the breaker housing. Note: The JCB AUTOGREASE system only accepts the AUTOGREASE cartridge. AUTOGREASE cartridges are clear to allow the operator to monitor grease levels.
JCB LUBRICANTS
The comprehensive range of JCB lubricants has been approved by JCB's engineers and designers to ensure that your engine, transmission, hydraulic system and other key components are fully protected.
The raw materials used come from a single source of crude oil and are totally traceable from ground to can, and they come with the back-up of JCB's trained global aftersales network.
JCB offers:
Wide range of specialist lubricants for all applications
High quality base oils
Blended with sophisticated additive packages
Antifreeze for all conditions
Quality service fluids for all applications
Selection of high quality lubricant handling equipment
Offers end 31st March 2017. T&C's Apply. Find out more.
Please fill in the form below or contact your local depot for more information.
EXPRESS JCB PARTS QUOTATION