5CX Wastemaster
This outstanding JCB 5CX Wastemaster backhoe loader offers innovative design specifications which offer cost and time efficiency, and versatility to the waste and recycling industry.
Complete with a range of features, and specialist attachments, this backhoe loader is the perfect solution for demanding waste environments.
World's most versatile waste handling machine
Powerful 81 kW JCB EcoMAX engine
Unique four stabiliser legs provide extra height for improved visibility into the waste containers, baler or shredder
3-steer modes including 4-wheel steer and crab steer
JCB Jaw Bucket or Selector Grab can improve compaction efficiency by up to 3 or 4 times.
The new individual skip hook attachment allows improved movement of containers around site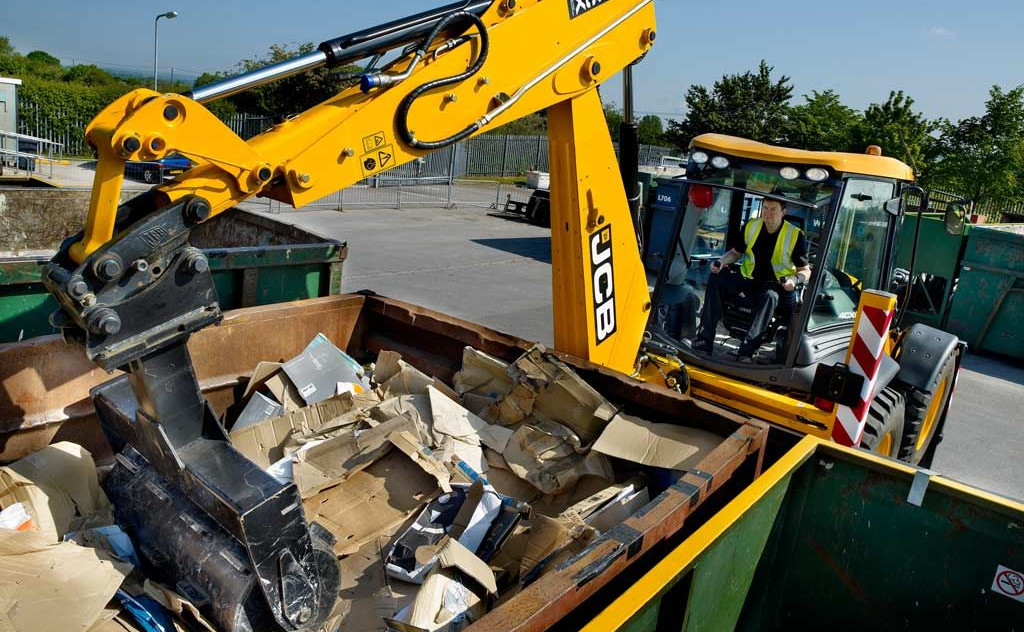 Designed for Efficiency
The JCB 5CX Wastemaster offers a multitude of features which include driving on the road, moving containers, sorting and compacting material, pallet handling, stockpiling, loading and sweeping up. This versatile machine is the perfect solution for a difficult waste and/or recycling site.
It offers front stabiliser legs and additional rear length stabilisers which lift the machine off the ground providing clear views ahead into waste containers in order to compact material with ease.
The JCB 5CX Wastemaster is road legal and  can be employed in various sites. It can also be fitted with a selection of easy to switch attachments that grab selectively, pick, sort, and compact materials with ease.
Safety First
Safety is the number one priority on any site, therefore the 5X Wastemaster is designed to ensure safety of the driver and the property in the site.
Safety features include check valves in the event of a hydraulic line failure, alarms when a door is opened or the stabiliser legs are not fully retracted, Hi-Vis chevrons, rear screen protection fitted with toughened glass and a keypad immobiliser to prevent unauthorised use.
The JCB 5CX Wastemaster is designed with the comfort of the operator in mind. Offering a stress-free, productive working day, it features cab comfort, efficiency and stands out as the best-in-class.