JCB 85Z-1 Mini Excavator
The 85Z-1 and 86C-1 mini excavators are some of the latest machines from JCB. These highly efficient machines are designed to be durable, strong and robust without compromising on performance. The 85Z-1 has been developed using a wealth of innovative design features to ensure that you get the most from every drop of fuel. This allows the machines to achieve peak power and torque output while at low engine speeds, making for efficient cycles.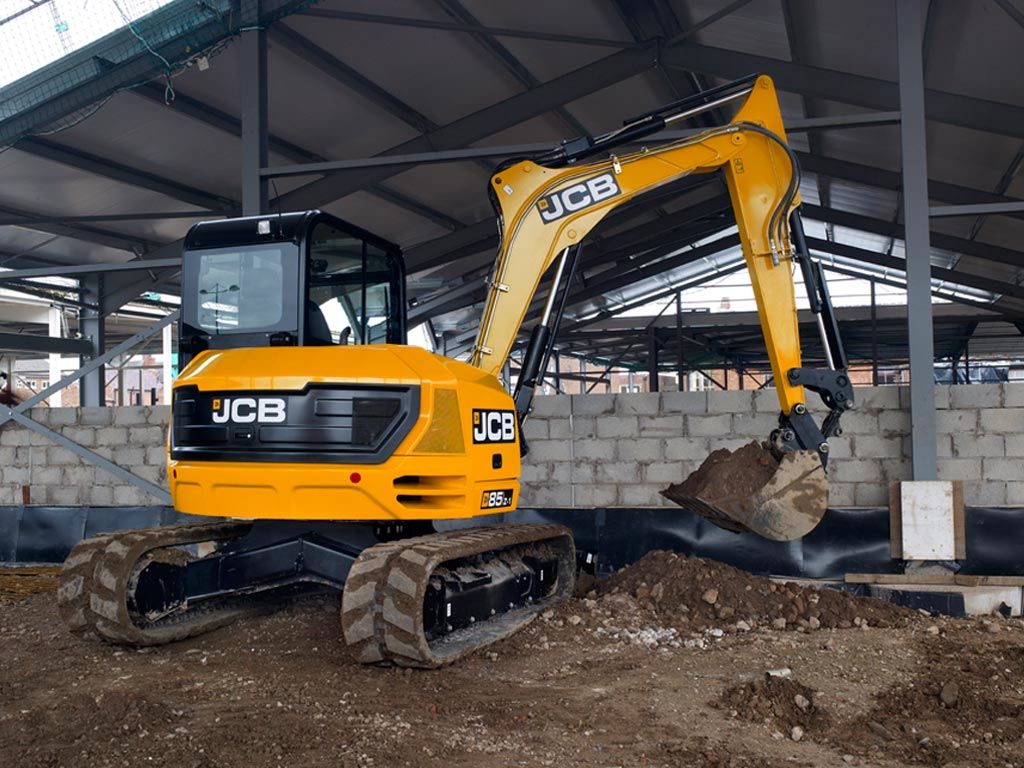 The 85Z-1 is equipped with twin auxiliary lines that generate both high and low hydraulic flows. This provides the machine with excellent versatility, allowing it to be used with an array of attachments.
Improved Operator Comfort
The cab has a large door, providing safe and easy access with a spacious interior, providing an additional 6% more space than the previous model. There is plenty of storage, a cup holder, stowage nets and a phone tray. The interior also contains a 12V phone charger, radio, powerful heater with a window de-mister and high performing air conditioning with 9 vents.
A fully adjustable suspension seat ensures operating comfort. The cab provides excellent front-facing visibility with a 70/30 front screen split.
Operator comfort is a fundamental part of any machine and is intrinsically linked to productivity, especially when used for long periods.
Serviceability
JCB minis boast the best SAE rating on the market. This is partly due to routine checks being able to be carried out quickly and effectively without the need for special tools, as well as a gas-strutted 30˚ tilting cab.
Best in class dig end and dozer greasing intervals at 500 hours helps save time and money. While easy ground level access to the fuel tank, external diesel indicator and an optional refuelling pump reduce spillage and increase safety.
The 450mm/600mm steel tracks come pre-drilled, allowing bolt-on rubber pads to be easily fit.