JCB 90Z-1 Mini Excavator
The new generation JCB 90Z-1 Mini Excavator provides excellent build quality, efficiency, serviceability and comfort in abundance. Ensuring maximum productivity is always at the forefront of any job.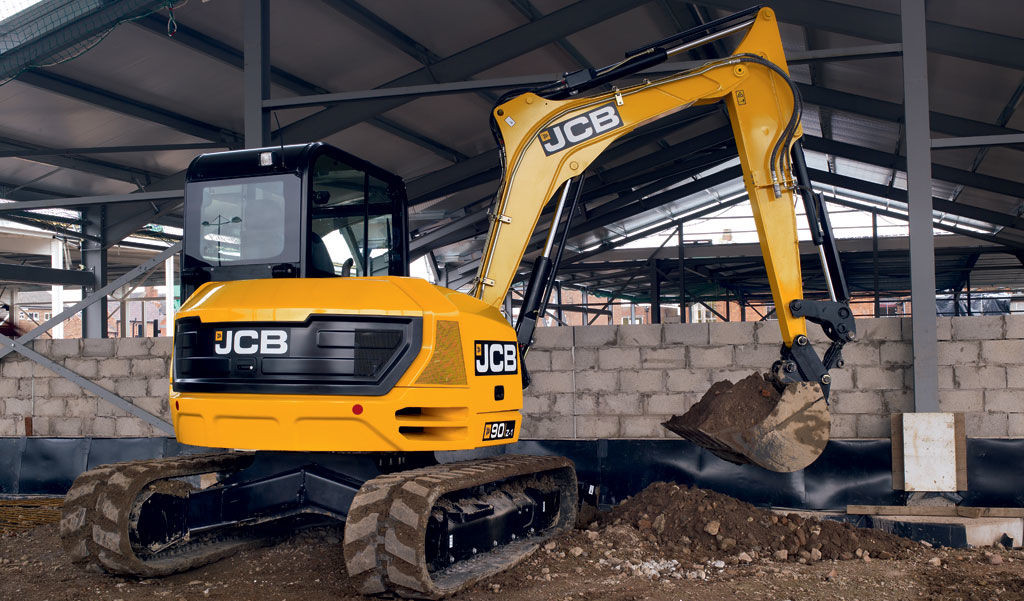 This machine has been designed from the ground up to keep running costs low, whilst maximising the operational uptime. This is achieved by combining elements such as easy, cost-effective serviceability, stringent safety measures and absolute operator comfort.
Unrivaled Productivity
The 90Z-1 boasts the best in class performance for stability due to the large width of the track frame, combined with a low centre of gravity. It also sports the best in class 500-hour greasing intervals and an improved dozer design that improves the performance, while drastically reducing soil retention.
Maximum Efficiency
The performance of the 90Z-1 mini excavator can be tweaked by changing the dig performance between the two separate dig modes. The Eco setting provides efficiency booting performance, while the Heavy setting enhances the overall productivity.
The 90Z-1 mini excavator is equipped with a Diesel Kohler engine, which is so clean that it doesn't require a particulate filter. This increases the uptime, reduces servicing and helps to improve the overall fuel efficiency.
The machine has an auto-idle feature that can be set to activate if the controls have not been used for a set period. In addition, the engine revs will automatically drop to under 950 rpm when the operator's armrest is raised. These features help to reduce the noise and boost the fuel economy.
Load sensing hydraulics help to conserve energy and ensure that power is only consumed on demand, saving your fuel for when it's needed most.
Enhanced Operator Comfort
The overall size of the 9-tonne excavator cabs has been increased, ensuring that there is plenty of storage. A cup holder, phone tray and stowage nets have also been added to the interior.
The 90Z-1 mini excavator comes equipped with a 3-speed heater, window de-mister, and 9 adjustable air vents, ensuring a comfortable and productive working environment.
A standard, fully adjustable suspension seat provides excellent operator comfort, with a heated air suspension option available with adjustable positions, providing maximum ergonomics.
Noise and vibration within the cab have been reduced by isolating the hydraulic valve from the chassis with rubber mounts. Combined with an electro-hydraulic dozer control that ensures steady and precise grading, resulting in a very smooth ride.