Scot JCB Partner with engcon Tiltrotator
Engcon was founded over 30 years ago when founder Stig Engstrom started to develop their now industry-leading Tiltrotator. A Tiltrotator is a flexible wrist for an excavator. Engcon's Tiltrotators can help improve the profitability, efficiency, flexibility, and safety of your excavator.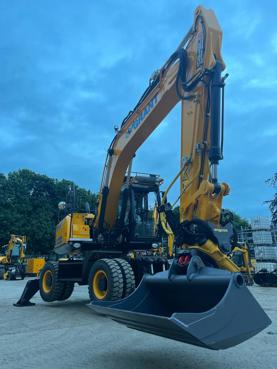 Engcon's Tiltrotators can be fitted to any excavator from 1.3 to 33 tons. They allow a bucket or a wide range of other attachments to rotate 360 degrees and tilt + or – 45 degrees. The Tiltrotator lets you change tools quickly and easily. As buckets and attachments are able to rotate 360 degrees and tilt 45 degrees they are able to get to hard to reach places with greater ease.  This means the machine will not need to reposition as much which will help to reduce track wear.
Twin Hitch System
The twin hitch system from engcon is the most versatile of the two, it comes with EC oil as standard which allows customers to adapt their current hydraulic attachments to fit the S coupler meaning you can change your attachments in only 15 seconds. The twin hitch also lets you remove the Tiltrotator with ease if they need to use a breaker or just dig using a bucket.
Benefits of a Tiltrotator 
Financial  - An engcon Tiltrotator saves you time, reduces fuel consumption and increases the precision of the maneuvers you are making all of which will help you save money. 
Safety - The Tiltrotator dramatically reduces the need for manual work, gives you greater maneuverability and reduced space requirements. 
Flexibility - The Tiltrotator moves and rotates attachments with ease. With an engcon Tiltrotator your machine can be fitted with many different tools which allows your machine to be used for more applications.
Environmental - As you do not need to move the machine around a site as much there is less damage to the ground. As previously mentioned the fuel consumption will be reduced which in turn will benefit the environment. 
Comfort - With an engcon Tiltrotator you or your operator will experience increased comfort as you won't need to leave your cab as often. 
Trained and Tested 
Scot JCB Engineers have been trained in the installation, fitting & service of engcon's Tiltrotators. After each installation, every Tiltrotator is tested to ensure it is ready to get to work when you take delivery of your machine. Engcon Tiltrotators can be ordered when you place your new machine order or retrofitted to older machinery.
Iain Bryant, Joint Managing Director of The Scot JCB Group commented, "This new partnership with engcon is another key development in our strategy to be the industry-leading construction solutions provider in Scotland and the North of England. Our range of JCB excavators are class leaders however the addition of the engcon Tiltrotator makes the machines much more versatile to the end-user. We have over 100 factory-trained Engineers available across our territory who will ensure engcon Tiltrotators are supplied, fitted, and tested ensuring they are ready for use from delivery. The market for Tiltrotors in the UK is growing and we are in a great position to help meet the demand thanks to this new partnership."
Contact your local depot today to find out which engcon Tiltrotator model would best suit your needs.