Meet Jane Nicolson - Women in Construction Week 2023
---
To celebrate Women in Construction Week and International Women's Day we have been catching up with some of our customers to find out more about them, how they got into construction, what changes they have seen in the industry and most importantly what they love about working in construction.
Today we meet Jane Nicolson who is an Operator for Grant Nicolson & Co. Jane spoke to us about how she loves her job and how proud she is to be doing the job she does today.  
Name:  Jane Nicolson
Company: Grant Nicolson & Co
Role: Machine Operator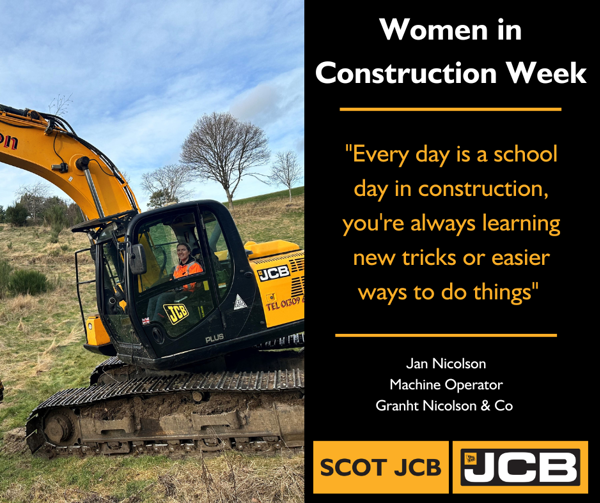 How did you get into your current role?
I got into my current role by starting out as a groundworker, learning the basics of groundworks and working around machines my whole life and watching my dads employees at the time on the machines. It was the best start working on the ground before jumping into a machine as I knew what was expected of operators. I've been very fortunate to have an old man aka dad that was willing enough to give me a job and I would say it's 100% paid off! 
Tell us about a typical day at work for you?
There is no such thing as a typical day at work for us! I can be jumping between machines - from the tracked excavator to the 3cx and next thing I'm in the tractor carting. I love the variety of the work and no day is ever the same. 
What changes have you seen in construction in recent years with regards to gender bias? Do you think that events like Women in Construction by SPOA are opening more doors for women to work in construction?
The first thing that comes to mind regarding the biggest change in construction regarding gender bias is that there are many more woman going about work sites driving lorries, other than that I'm yet to work with another female operator on a site (other than my wee sis). They do exist as I follow a few on social media but they are few and far between. Other than that I can say men's attitudes change when they see us operating and you've definitely got to prove your worth. Events like woman in construction by SPOA is great for advertising to companies that woman are capable of doing the same roles as men however I think social media and female operators accounts play a bigger role for young woman to get into the industry! It needs to be an option for them before they even entertain the idea or how would they think of driving equipment or ground working. One thing for sure is that we need more young blood in our industry whether that is men or woman. 
What's your favourite part of your job?
I absolutely LOVE my job and honestly can't imagine doing anything else! I love how I can zone out and throw muck for a couple of weeks and on the other hand I love the challenge of exposing a land mine of cables and working with the guys on the ground. As everyone will agree the variation of work is the best. 
What's your proudest achievement in your working life so far?
My proudest achievement is something as simple as getting to where I am today, it takes years to become a confidant and competent operator and knowing your self worth and having that CAN DO attitude. There's been times you doubt yourself but you've got to take the bull by the horns and go for it!
What is the best advice you've been given since starting in construction?
The best advice I've been given in construction is 'every days a school day' you're always learning new tricks or easier ways to do things. Work smart not hard is another and my favourite which isn't exactly advice 'Where there's muck there's money.'
What advice would you give to women who have an interest in construction but aren't sure if it's right for them?
My advice to woman interested in construction but aren't sure if its right for them is to get in touch with other woman already in the industry, they will tell them upfront what it's really like. You've got to be patient with where you want to be and realistic with how long it takes to get there. Personally, I would say it's best starting from the bottom and working your way up to grasp how it all works as there's a lot to learn but it's so worth it and it's a fantastic career if you have the right attitude. The pay is great too! 
Do you have any work goals for 2023?
Personally, no I don't have any work goals for 2023, keep living my best work life I suppose! 
What about life outside of work? What do you do when you're not at work?
Life outside of work? Pfft does that even exist in this industry especially when you work for your family!!! :D jokes aside I have a great fiancé (whose punching above his weight) I marry in October so plenty wedding planning at the moment, two springer spaniels that need constant cuddles and walks and since sitting in a machine for up to 12hours a day does absolutely nothing for your waist line I train with kettlebells twice a week. Of course, there's always time for friends having cuppas/cocktails too depending on the occasion!  
Latest News From Scot JCB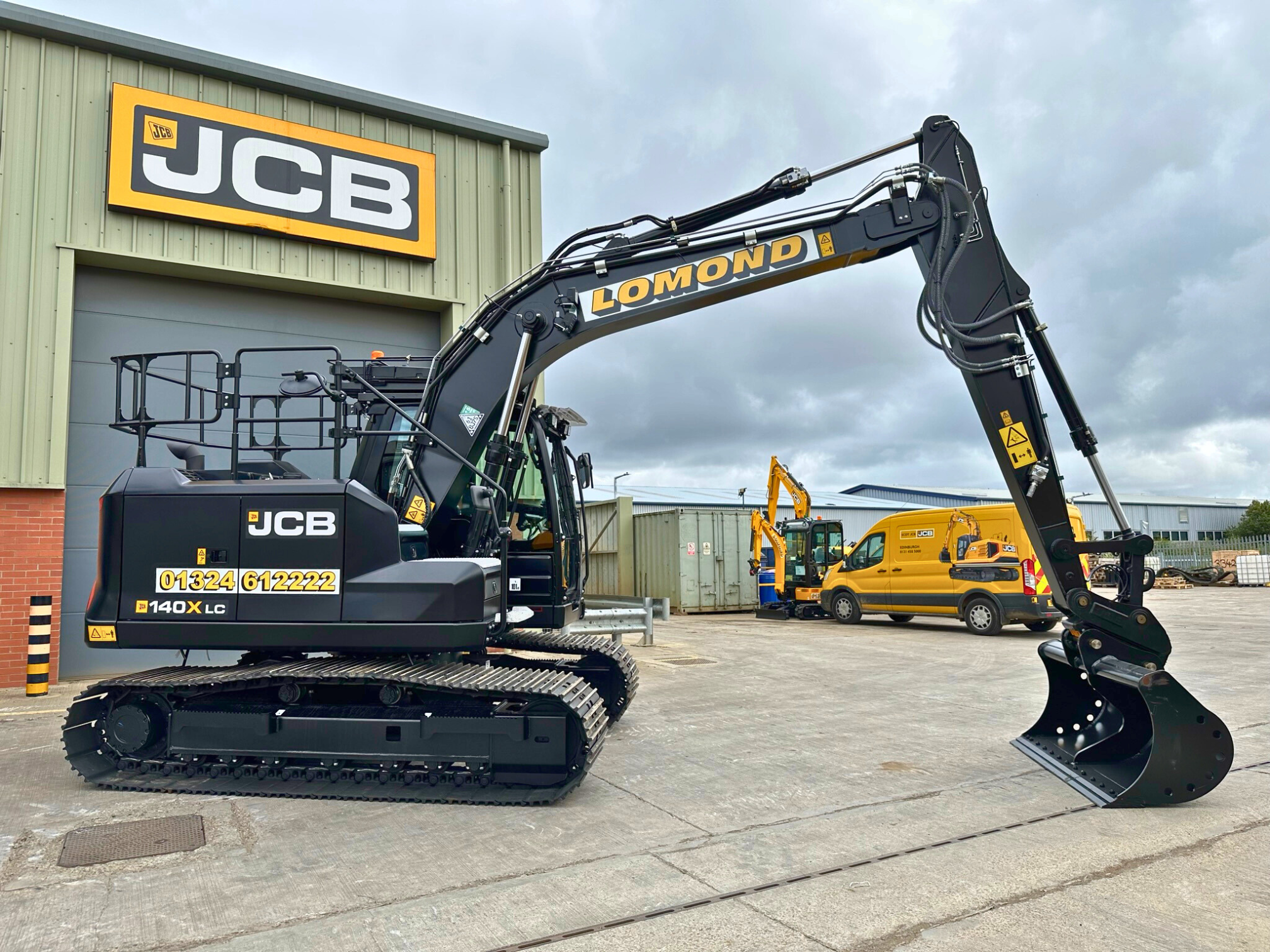 Lomond Plant & Scot JCB, Putting Customers First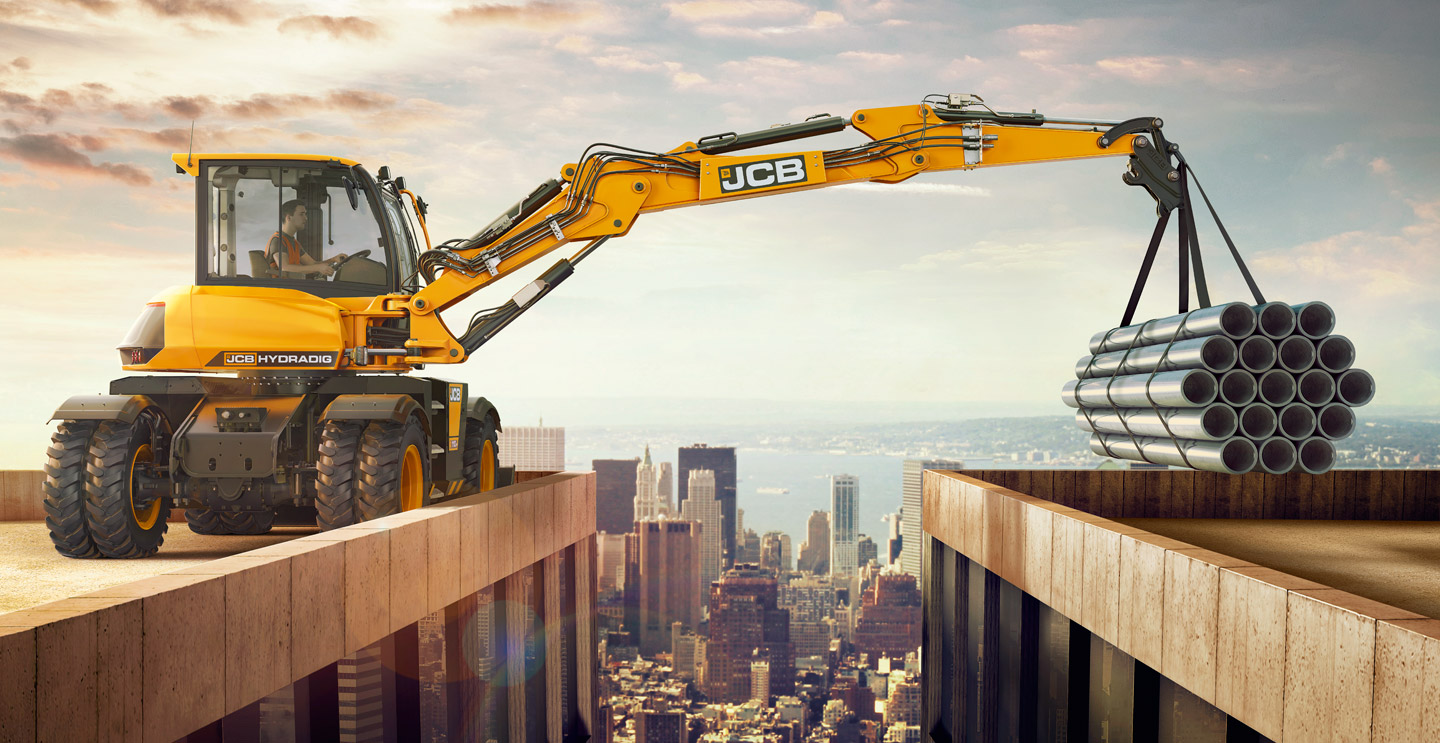 Meet our newest recruits!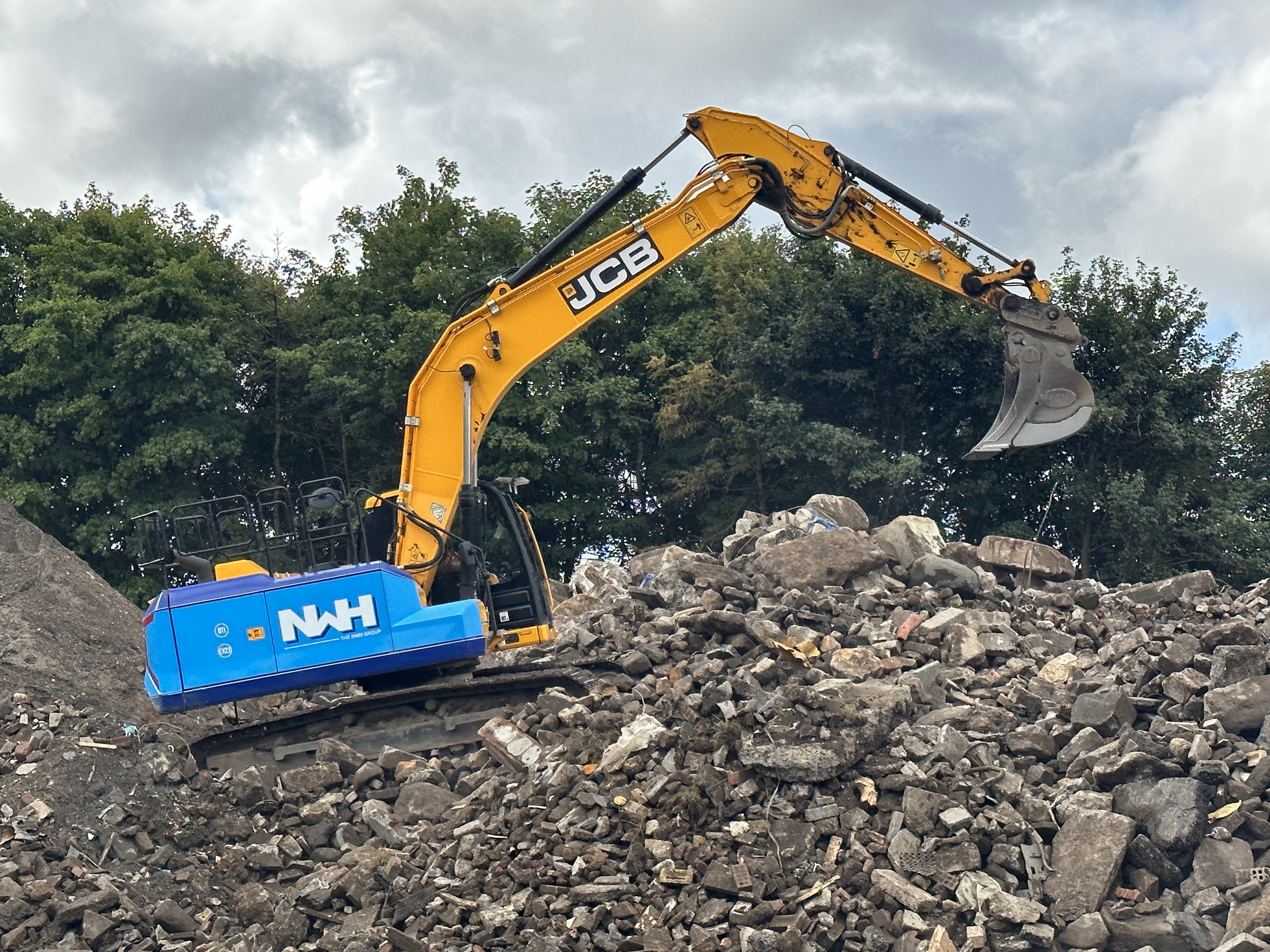 Scot JCB – More Than Just Machinery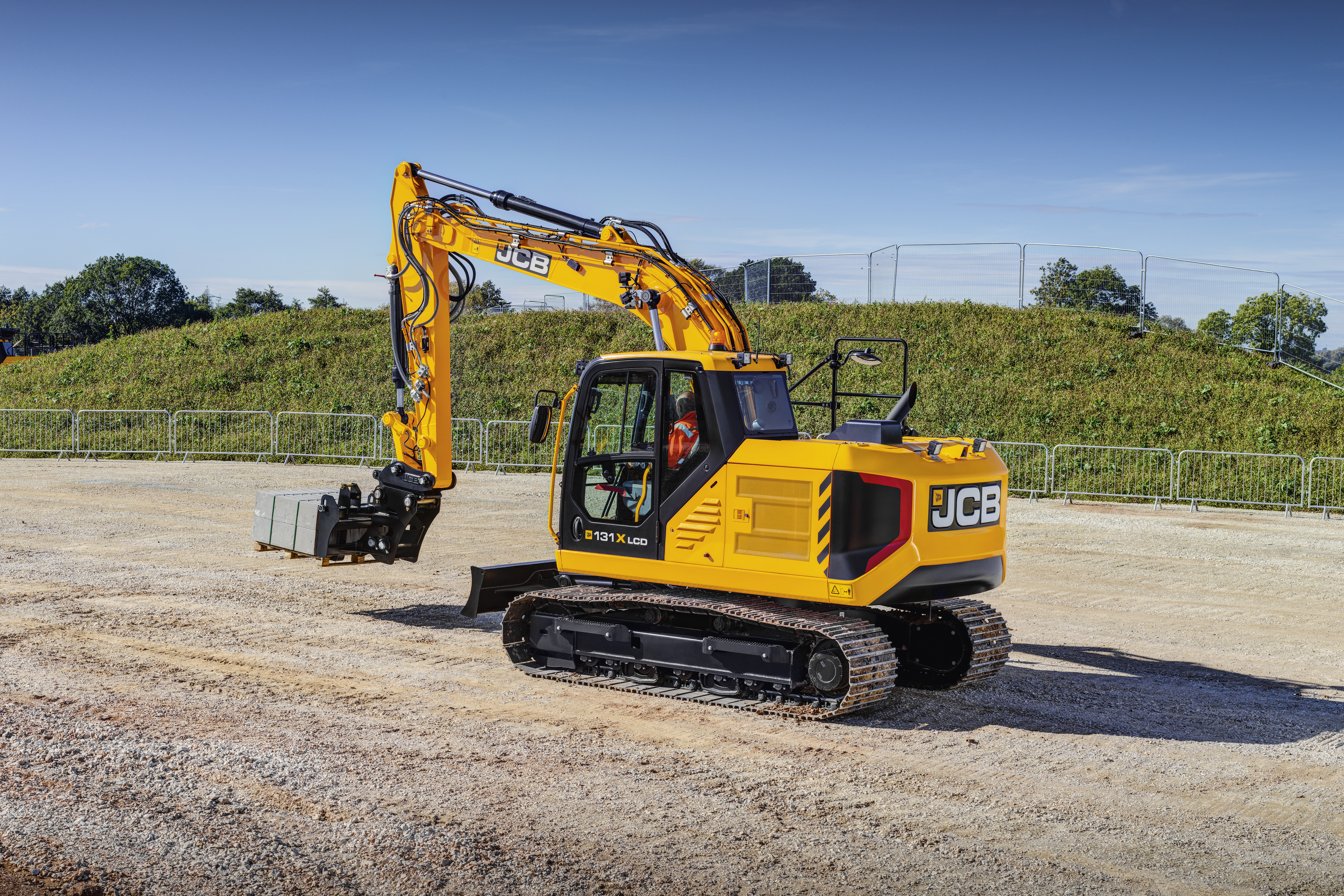 Meet our newest recruits!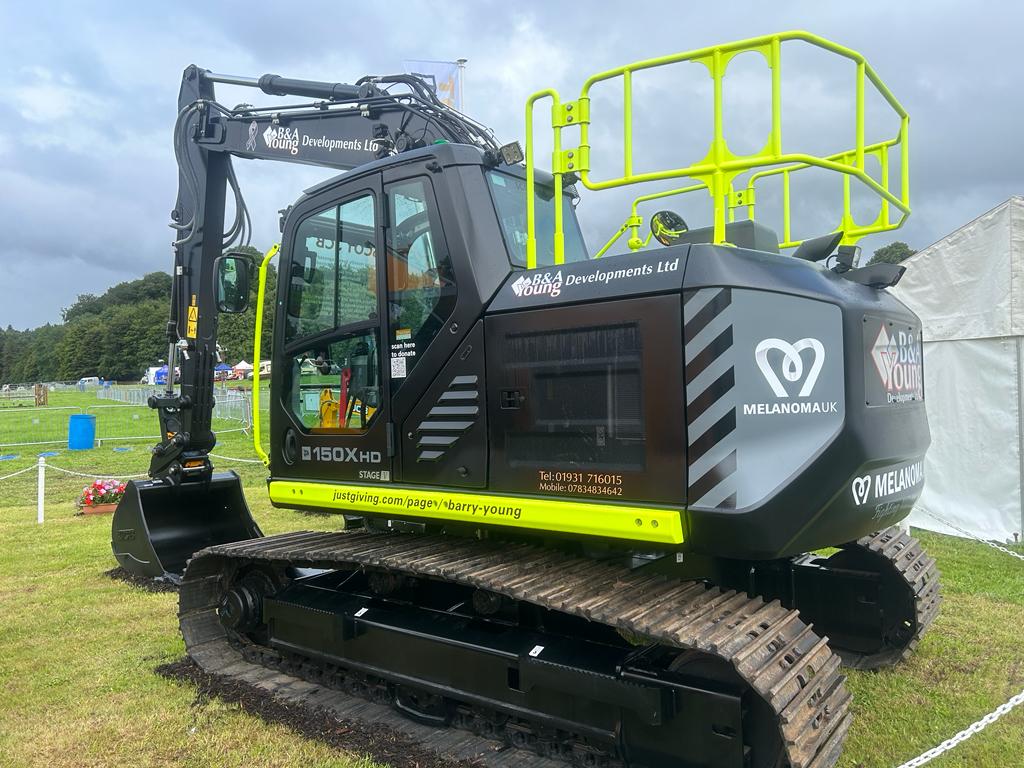 An Extraordinary JCB 150X Helps Raise Awareness for Melanoma UK.
Scot JCB Group