90 Day Payment Pause Available on JCB Access Platforms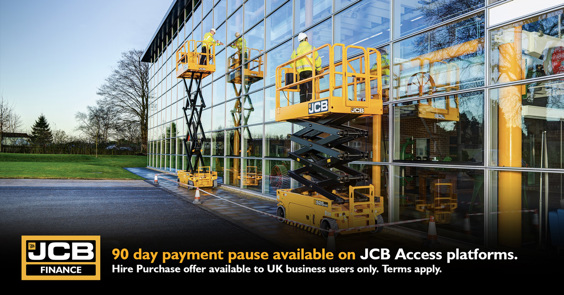 This Hire Purchase offer is available on new selected JCB Access models. The VAT is payable on signing, 1st payment payable after the 90-day payment pause and the 45 monthly payments will commence 30 days later (120 days after signing).
This offer is available on machines ordered by 31.12.2021. Available on models stated below via Scot JCB  for UK business users only. Terms apply. Maximum 10 units per customer.
| | | | | |
| --- | --- | --- | --- | --- |
| Model | Max Advance | 1st Payment after 90 days payment pause from | Followed by 45 monthly payments from | Weekly illustrative equivalent from |
| S1530E | £7,406.29 | £740.63 | £163.41 | £37.71 |
| S1930E  | £8,206.94 | £820.69 | £181.06 | £41.78 |
| S2032E | £9,505.45 | £950.55 | £209.99 | £48.46 |
| S2046E  | £10,625.97 | £1,062.60 | £234.68 | £54.16 |
| S2632E  | £10,913.76 | £1,091.38 | £240.86 | £55.58 |
| S2646E  | £11,253.14 | £1,125.31 | £248.27 | £57.29 |
| S3246E  | £14,255.47 | £1,425.55 | £314.51 | £72.58 |
| S4046E  | £17,004.72 | £1,700.47 | £374.64 | £86.46 |
TERMS: Scot JCB (Registered in England No: SC51692 Scot JCB Registered office: 400 Townmill Rd, Glasgow, G31 3AR.) Scot JCB is authorised and regulated by the Financial Conduct Authority. Scot JCBis a credit broker and JCB Finance Ltd are its preferred supplier of Finance. JCB Finance Ltd (registered in England No:972265 and whose registered address is: The Mill, High Street, Rocester, Staffs, ST14 5JW) is authorised and regulated by the Financial Conduct Authority (Firm Reference Number: 708332). We receive a commission from JCB Finance which is a tiered flat fee that is based on the value of the finance agreement. These payments are not additional fees that you will have to pay and do not affect the amount you pay under your finance agreement. Finance is restricted to business users only in the United Kingdom, subject to acceptance by JCB Finance Ltd. Terms and return conditions apply